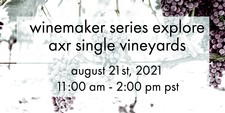 axr winemaker luncheon-single vineyards
Enjoy an intimate and educational sit down with AXR Winemaker/Partner, Jean Hoefliger, as he guides you through our single vineyard wines; passionately describing his philosophy when creating them and the uniqueness of each vineyards' terroir. Afterward, you will enjoy a family-style luncheon.
Tickets are $225 per person or $200 for our club members. Members, login to your account to reserve your tickets at your member price. Interested in membership? click here to join or call us at 707-302-8181.