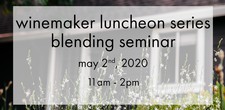 axr winemaker luncheon-blending
Get a glimpse into how the magic happens! Picking the brain of AXR Winemaker/Partner, Jean Hoefliger, and see what goes into blending wines to get a finished product. We'll then enjoy a family style luncheon with Jean after our discussions.
Tickets are $150 per person or $125 for our club members. Members, login to your account to reserve your tickets at your member price. Interested in membership? click here to join or call us at 707-302-8181.