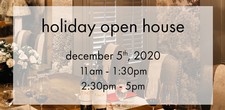 holiday open house PM
'Tis the season to surround yourself with friends, family and good wines! Please join us for a merry and bright Holiday Open House at the Estate on December 5th from 11 am to 1:30 pm OR 2:30 pm to 4:30 pm. This ticket is for the second Open House from 2:30 pm to 4:30 pm. We will enjoy our signature AXR wines, festive bites and holiday cheer! Also, all futures that have been purchased in 2020 will be available for Pick-Up at the Holiday Open House, so make sure to bring your car with a big trunk!
Club Members: Login to your account to take advantage of your 4 complimentary tickets!